Website
​Welcome to Odoo's Website Builder – where website creation is made easy! No coding needed. Customize templates, go mobile-responsive, boost SEO, and more.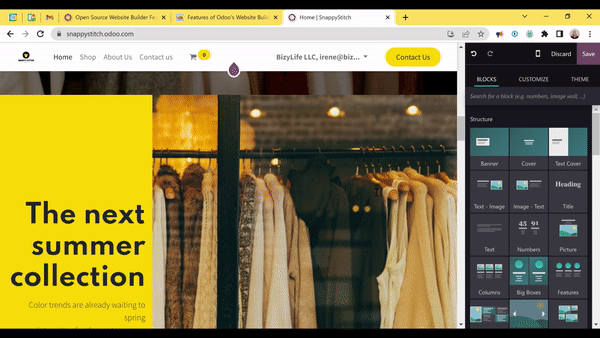 Drag-and-Drop

​​Explore Odoo's Website Builder, a user-friendly tool that lets you create and design web pages effortlessly – no coding skills required. With an intuitive drag-and-drop interface, you can add content, images, forms, and other elements to your Website.

Call To Action

​Prompt your site's visitors to take specific actions with call-to-action (CTA) buttons. Enco​urage them to subscribe, contact you, or engage in other desired activities.

Personalize

​Take advantage of Odoo's diverse collection of fully customizable website templates. Personalize your site to align with your brand identity by adjusting colors, fonts, layouts, and more, resulting in a unique and professional appearance.​

Mobile friendly
​​Your website will provide an optimal user experience on various devices, as Odoo ERP ensures a responsive design that automatically adapts to different screen sizes, including smartphones and tablets.

​
E-commerce

​​For E-commerce, Odoo seamlessly integrates its Website application with the E-commerce module. This enables businesses to set up and manage online stores, complete with product catalogs, shopping carts, payment gateways, and order processing.
Live-chat with Customers

Pro​vide real-time customer support and assistance through Odoo's live chat integration, connecting you ​directly with website visitors.​

Analytics

Stay informed about your website's performance with built-in website analytics. Gain valuable insights into website traffic, visitor behavior, and other critical metrics.

Summary

Odoo's ERP Website application offers a comprehensive and versatile solution for businesses seeking an integrated platform to manage their operations and online presence. Keep in mind that software features may evolve over time, so it's always wise to check Odoo's official website or documentation for the latest updates.